Endless adventure awaits.
Winter cloaks the valley like a comforting blanket and a certain security returns. Unbelievable snow, unmatched runs, untamed backcountry - it's why we call Jackson Hole home. Discover how we've prepared for the upcoming winter season to ensure a seamless and unforgettable experience for you.
Jackson Hole Mountain Resort
Lift Tickets and Reservations
Meet the iconic mountain that keeps you engaged with endless levels of adventure around every bend. This winter season will be the longest ever with skiing and riding for 143 days from November 24, 2023 – April 14, 2024. Daily mountain capacity will be managed once again this winter to elevate the guest experience.
Lift Tickets 2023-2024
To improve guests' experiences on the mountain and throughout the resort, they will continue to limit the sale of daily tickets, so book early to secure your spot at the best price and availability.
We strongly recommend that you make your reservations as soon as possible to ensure you are able to ski during your stay in Jackson Hole.
Please click on the following link to contact our concierge to arrange for your lift ticket reservations.
For the most up to date information regarding winter operations, please visit the JH Mountain Resort's website.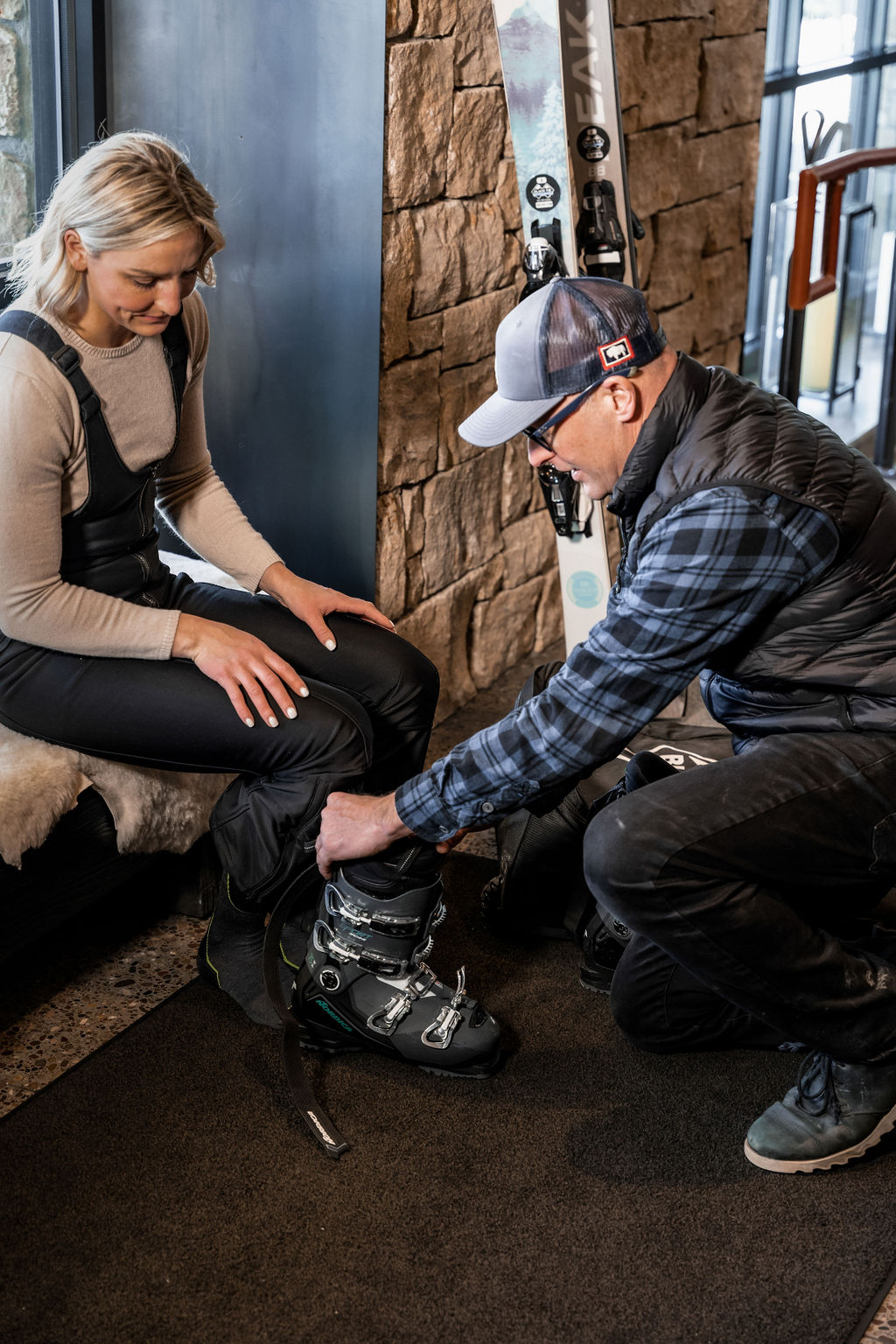 Gear Concierge & Rentals
We have partnered with Black Tie Ski Rentals to provide you with a personalized rental experience. Place your order for skis, poles, snowboards, boots, and helmets prior to your arrival and your personal ski concierge will meet you at The Cloudveil with everything you need. Their technicians will custom fit you with a wide selection of the latest ski and snowboard gear based on your rental package, ability level, and the current snow conditions.
In order to obtain your preferred fitting time, please use the following link to reserve your equipment prior to your arrival to Jackson Hole.
Rental gear fittings and consultation available daily upon request.
As an added benefit for our guests, Black Tie will transport your gear to our Ski Valet located at the Jackson Hole Mountain Resort. You can store your gear daily, and at the end of your visit, you can leave your rental gear at our Ski Valet and they will take care of your returns.
Personal Gear & Ski Valet
Our guests traveling with their own gear this winter will enjoy the convenience of Black Tie's service as well. Drop off your gear with our ski valet and Black Tie will bring it out to our Ski Valet located in Teton Village each evening (boots, poles, skis, and boards only). If by chance you miss the drop off, you can always take your gear out on our daily Teton Village shuttle the next day.
On your last day at the Jackson Hole Mountain Resort make sure to load your gear back onto the shuttle to return to the hotel.
Ski Valet
Whether you are bringing your own gear or renting with Black Tie, The Cloudveil has an exclusive location at the Jackson Hole Mountain Resort to suit up as well as drop off gear at the end of the day. Our Valet is located next to the Bridger Gondola in the lobby of Walk Festival Hall. Our Ski Valet is open between 8am and 5pm and includes an area for getting ready to ski as well as access to bathrooms. Guests may leave shoes and their gear at our Ski Valet. We will not have storage for other items. Lockers are available through the Mountain Resort at Tram Building and Bridger Center if needed.
Jackson Hole Mountain Resort Shuttle
For the comfort and exclusivity of our guests, The Cloudveil will be offering three nonstop trips to Jackson Hole Mountain Resort in the morning and three nonstop returns to hotel in the afternoon. You must sign up at the front desk ahead of time to request preferred shuttle time and check availability. Shuttles will depart on the hotel's King Street driveway entrance and drop off below the Tram Tower at the Jackson Hole Mountain Resort.
Times are subject to change.
The Cloudveil to Jackson Hole Mountain Resort = 7:25am, 8:35am, 9:45am
Jackson Hole Mountain Resort to The Cloudveil = 2:30pm, 4:00pm, 5:30pm
Snow King Mountain
"The King" is Jackson Hole's premier in-town playground for both adults and kids.  From skiing to the Winter Cowboy Coaster, they have winter activities for all ages.
They specialize in thrilling family attractions, gear rental, unique events, and the valley's best views.  At Snow King you can expect memorable adventures and great stories.
The absolute best way to experience everything the King has to offer, the Big King Pass is truly an all-in-one adventure. This one-day pass includes unlimited rides on all open winter activities including the Cowboy Coaster, King Tubes and skiing during the day and night. Join them for a day or night full of fun Jackson Hole winter activities for the whole family!
Please click on the following link for the most up to date information on winter operations at The King
Grand Targhee Resort
Grand Targhee is excited for the 2022-2023 winter season. While some things will return to normal others will continue to be new and different.
2023-24 Winter Lift Tickets
It is recommended that tickets be purchased in advance for guaranteed access and the best pricing. You will be able to purchase full-day and half-day adult, junior, and senior tickets and Shoshone only tickets. Season passholders and Mountain Collective passholders are not required to make a reservation. Friends and family, military, and other Mountain Collective Resort passholders lift tickets do not need to be purchased in advance. We will monitor total capacity, and ticket sales may no longer be available on specific days.
Please click on the following link for the most up to date information on winter operations at Grand Targhee Resort.